Accessories
BKS can offer a wide range of accessories for all your needs ranging from Gloves, Knee sliders, Impact protection for limbs and backs, base layers to keep out the cold, wind stoppers, care kits for your leather, suit linings and suit cover and hanger sets. Whatever you need to keep you on the road BKS Leather has it.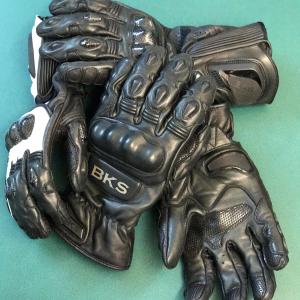 BKS offers 3 styles of glove. There are two short cuff models -  a Summer glove (priced at £149.99) made with perforated leather, hard knuckles, and Knox palm armour, then a Winter version of the same glove (priced at £159.99). This one has a waterproof membrane, no perforations but is otherwsie identical. Updated for 2021, these gloves have full CE approval, a visor swipe, and a touch screen friendly fingertip.
Our third offering is a long cuff Sport/Race version of the original BKS Summer glove and has Carbon protection added too. Priced at £189.99 this glove...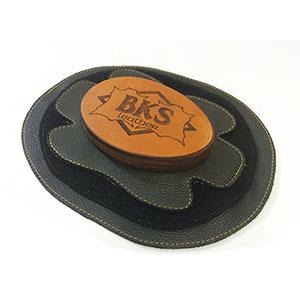 BKS make coordinated sliders with matching leather and thread to that of the suit.
Available in ultra Hard Compound Polyurethane in black or red or as Rock Hard Leather in natural tan with your choice of plain, laser etched BKS logos, or custom laser etching.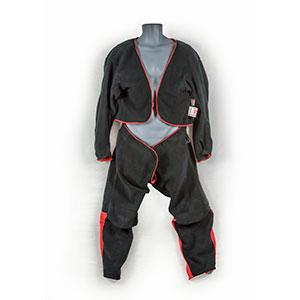 Lining options are very important and they will determine how much further your BKS suit can go towards helping deal with the climate, wherever in the World you are and whichever season you find yourself in.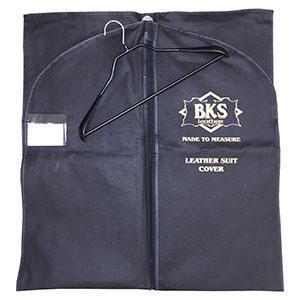 Protect your BKS garment with our reinforced hanger and cover set. Sized to fit either a Jacket or a full suit, the cover provides ample protection for storage and travel. Adding as little weight as possible and having a soft non-scratch interior.
The reinforced hanger ensures that the garment wont fall in your wardrobe - last thing you want is damage because of a broken hanger.
Jacket cover and hanger set: £10
Suit Cover and Hanger Set: £15
Buy them here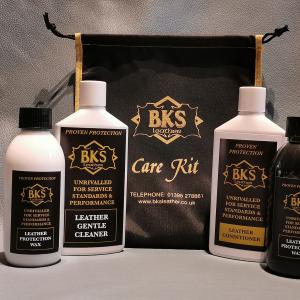 Cleaner, Conditioner and Protection Wax
As part of the guidelines needed to satisfy our Instructions for Use document and maintain recommendations in line with maintenance for CE Approved PPE, the methods for cleaning your protective leather motorcycle suit should involve nothing more than cool clear water. However this guideline stems from the fact that some leather care products (some that might contain solvents) can cause harm to the stitching of your suit. It is commonly regarded that leather needs feeding to maintain good condition and suppleness but there are...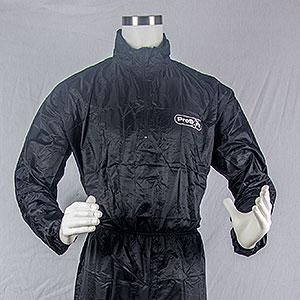 Finally, there are Windstopper type base layers made from Pertex, a fabric as thin and lightweight as cigarette paper.  These are loose fitting and worn as your last layer before putting on the leather suit. Offering complete wind resistance and to a degree are showerproof. Great for wearing under vented leathers on a cold and inclement day, these fold into a pouch the size of a mobile phone and are very transportable. BKS offer both the EDZ and the PROSKIN version of these garments as tops and legs.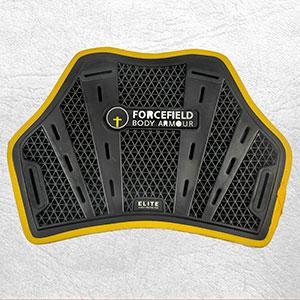 These products are soft shell but made from 100% pure performance materials…not just any old foam covered in plastics. The materials are selected for the impact absorbing properties and have earned themselves the lowest (best) impact results of all other brands. Add to which, soft shell protection is guaranteed to cause less damage to your leathers from within compared to hard shell when you slide on the road!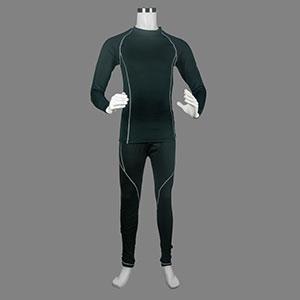 Before you decide on aspects of the suit itself, your choice of linings is directly influenced by your choice of base layer. BKS would like to encourage you regardless of ALL else, that you consider the most likely climate around you. If it is the UK then we face ever changing conditions in temperature and humidity and weather patterns. Wearing most forms of motorcycle specific clothing brings mild discomfort as it is close fitting, bulky, fitted with protectors then squeezed into boots and gloves and topped off with a helmet. We need all the help we can get with what we wear next to the...