One-Piece Suits
In 2016 we decided that the range would be called the Evolution Collection and consist of muliple stages of one piece suit design. The entry level suit, our 'House Style' was referred to as BKS 100R (stage 1) with the range of models being an extension of this. 
Stage 6 was our 'champagne level' and demonstrated design and features unrivalled in leather suit construction. As design features continue to be enhanced...we feel that to try and give product names to each suit is becoming increasingly unnecessay. Therefore ALL BKS suits are custom made and will simply be called a BKS 100 with its listed specifications. 
We have also re-introduced a popular design that we originally created some while back, which is a twin zip suit. This also works through all  stages of evolution.
Naturally there will be combinations from each 'stage' available on a mix and match basis, enabling you and us to design 'your' perfect leather suit.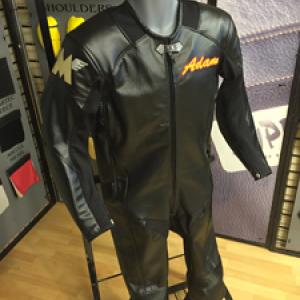 This is a traditional single zip suit which demonstrates how all BKS suits begin. It has the essential stretch Kevlar inserts at the arm, back of leg, groin and neckline to provide comfort whilst close fitting. Accordion leather stretch panels are fitted above the knee and behind the waist. The lining is detachable and either D3O or Knox Flexiform Plus protectors are fitted as standard.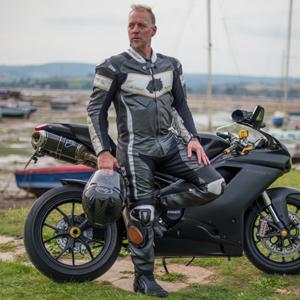 The Evolution Collection allows for all final designs to be made as a one piece or as a two piece zip together suit. These suits aim to demonstrate the ability to build your suits to include the various additional features such as extra stretch panels; external metal caps; additional torso protection (RX Pads); speed hump; enhanced graphics and all other internal options such as linings and impact protector upgrades.
Ladies suits follow in exactly the same way as men's but the tailoring is naturally sympathetic to the ladies body shape and is dealt with accordingly at the measuring stage and fitting. Extra seams are used in the bust when necessary.