Welcome to the all-new fully CE Certified BKS 100SX textile motorcycle suit.

BKS (made to measure) Ltd, the original BKS started by Brian Keith Sansom back in 1986, has yet another reason for celebration.
The first company, Worldwide, to ever receive CE Approval for leather motorcycle clothing in 1994 has done it again and as of October 18th we have
become the 1st company to ever hold both EU and UKCA certification for BOTH leather and now…textile motorcycle suits.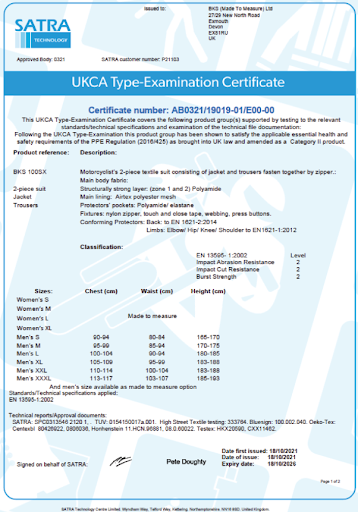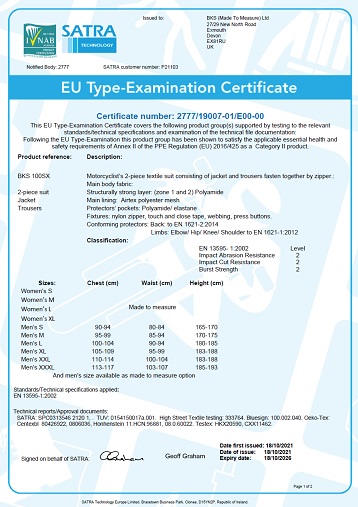 Bike gear now falls under UK law where, as legitimate PPE, all motorcycle clothing manufactured since April 2018 has to meet EU standards.
This entails full testing and certification to EN 17092 or if preferred, to the higher standard EN 13595.
The latter is what UK Police forces have learnt is the more appropriate for their needs and are asking the British Standards Institute (BSI) to establish an Emergency Services British Standard
for Motorcycle Clothing which they can rely on. Testing includes abrasion resistance, cut resistance and tensile strength.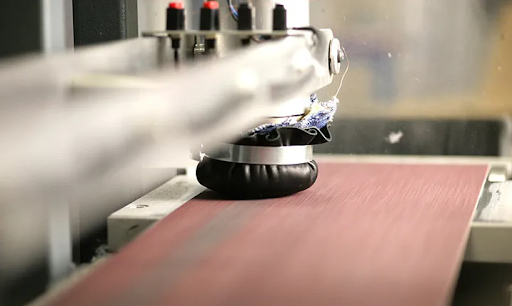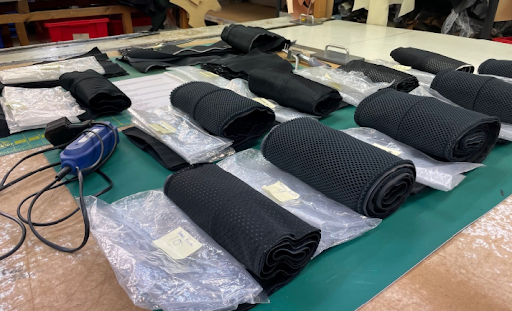 Development

BKS has been developing textile motorcycle clothing since 2018.
South Wales Police has been wearing it for over 2 years as well as providing us with some real life crash test evidence.
During this period we have refined the material selection, explored various designs, revised constructions,
and now completed testing with everything coming together to produce the end result.
We believe we have the finest and highest-performance non-leather outfit currently available.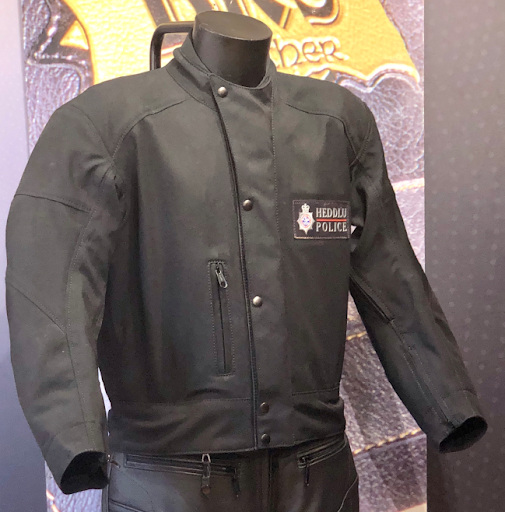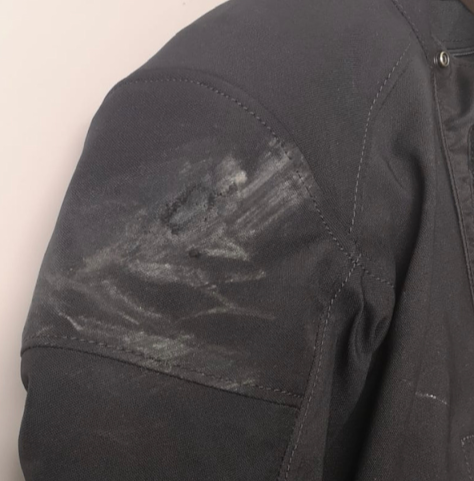 Launching to both the police and private sectors simultaneously, this new range of clothing is truly ground breaking.
Available with and without the Techair airbag systems, BKS is extremely proud once again to announce this award.
The BKS 100SX – Textile Suit – Fully Waterproof – EN 13595 Level 2 – Made to order only
Here we have both the UK Police and the Civilian Rider versions of suit.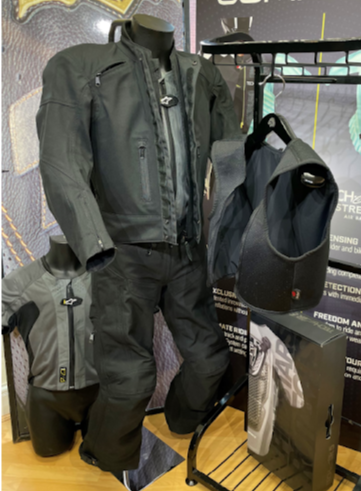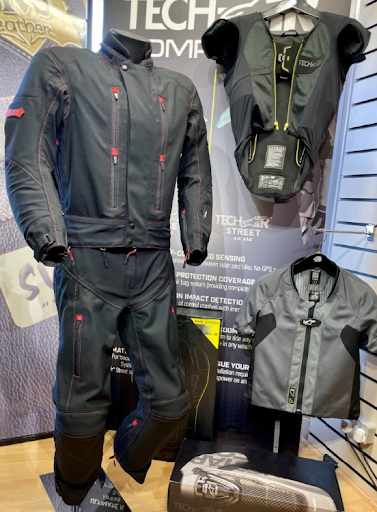 Development

Since 2016, the new PPE Regulation has required all leather and textile motorcycle clothing to be tested to the new standard EN 17092 instead of the previous EN 13595.
Sadly, the requirements have been lowered which means lesser protective clothing can pass this standard and more riders facing higher risk of injury without realising.
Aimed at urban and leisure riders only, even the highest rated AAA Classification only requires two seconds of abrasion resistance on the high risks areas of Zone 2 (elbows, seat, knees etc) to pass,
whereas the original BKS leather suits needed 12 seconds of abrasion resistance to meet the Cambridge Standard certification held since 1994.
The diagram below demonstrates the differences between abrasion requirements for EN 17092 and EN 13595.
The table underneath shows time to failure (in seconds) on the Cambridge Abrasion Machine for each zone.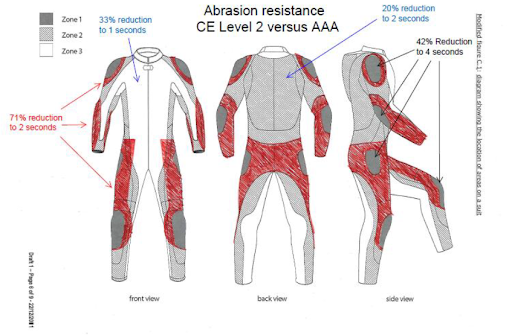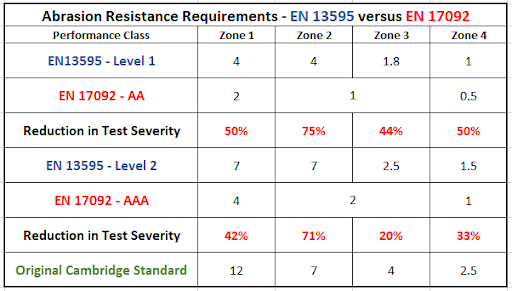 Our zoning diagram below demonstrates how the BKS 100SX compares with and passes the requirements of the higher performance standard EN 13595 (Level 2).
Our suit is a single layer outer shell garment combined with a unique inner layering system that provides superior performance and yet remains impressively lightweight.
The BKS100SX suit is reaching over 10 seconds in Zone 2.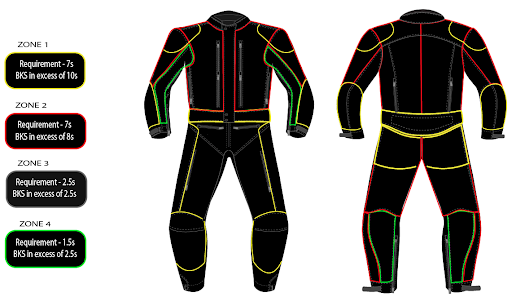 Design, Features, and Benefits

The testing and CE certification process finalized what BKS could do with several combinations of seams and layering, all providing vital information.
The suit has phenomenal tensile strength using a similar construction proven in our leather suits which confirmed an exceptional set of burst strength results.
The main fabric has multi-directional stretch with superb levels of comfort, allowing us to tailor the suit to reflect a cut similar to our normal riding leathers although slightly looser to allow more undergarments.
The other difference is an outside boot fit leg and over the glove fit at the cuffs.
Generous cuff and ankle 'adjustment' straps allow for tightening as required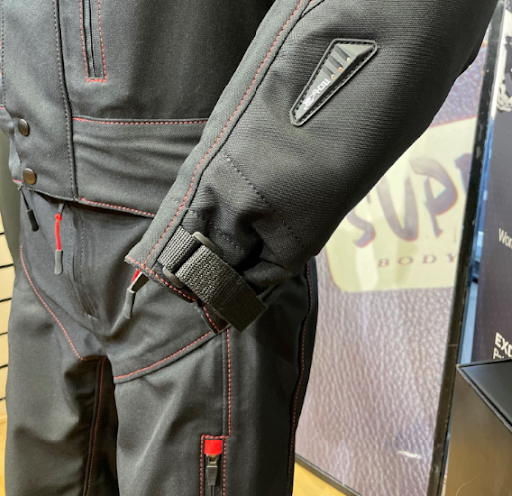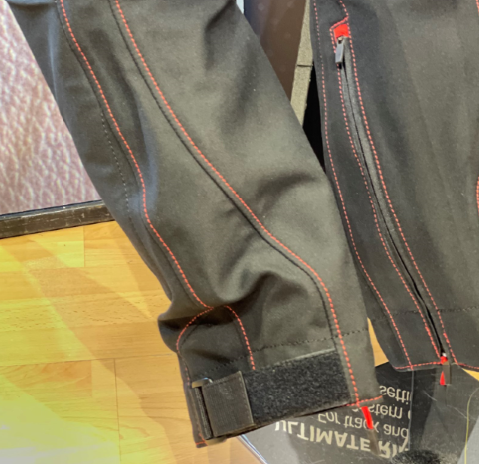 Dual Purpose Closure Vents
These cuffs and ankles also feature upper sections of mesh venting for additional functionality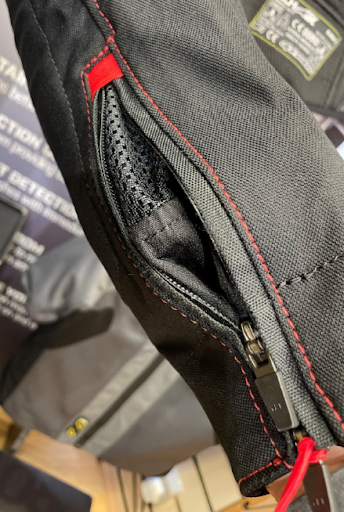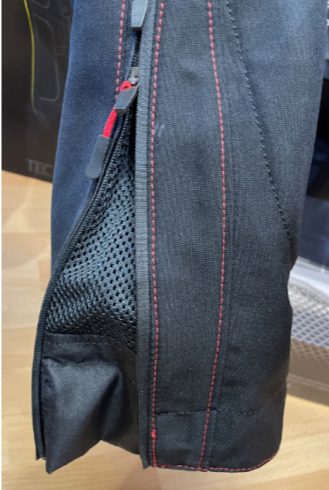 The suit has the option to be fitted with a further selection of mesh inserts that vent right through to the rider at the upper chest; the side of the torso; back of the arm and the front thighs.
Each one has locking heads for ultimate control of how much vent is used and stays in position wherever you prefer it.
Zip Vents with Garages for concealing zip heads when closed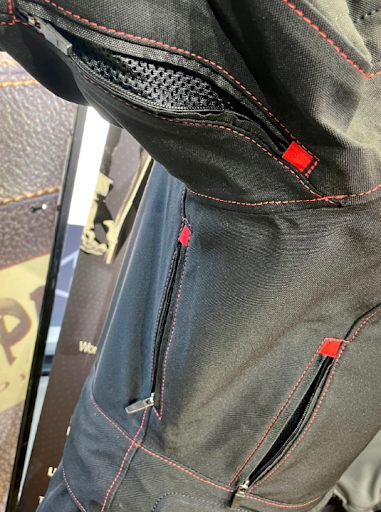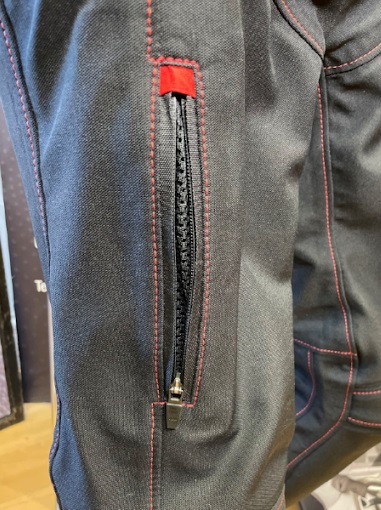 Trouser Fly Storm Gusset & Adjustable Trouser Waistband
Water repellent zips are fitted at all of the small closure points and for good measure a storm gusset also sits behind the trouser fly extending above the height into the waistband area.
The waistband itself has a belted section with a '3-stud' setting for further control.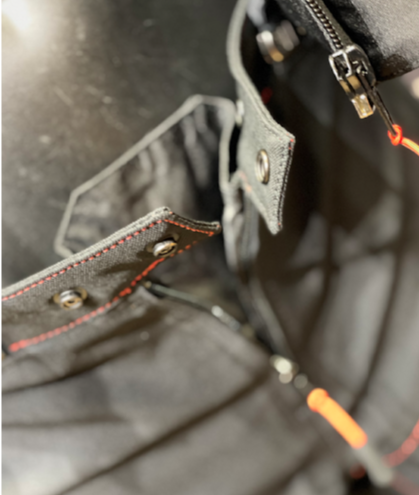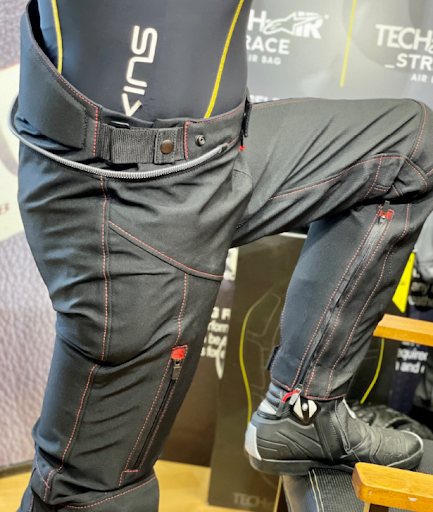 Double Storm flap with Neoprene Neck Roll
We have created a resilient and secure stormflap at the front of the jacket with a rain gutter and fitted a heavyweight front zip.
The collar has a soft, high cut neoprene neck roll for added wind resistance.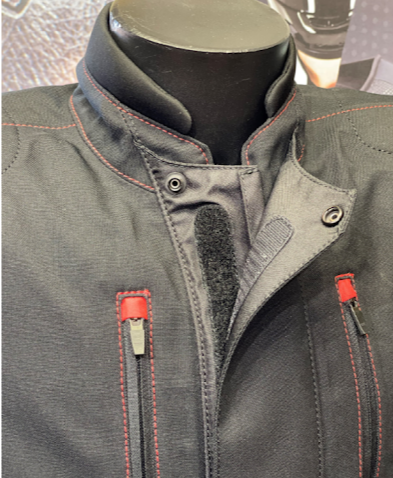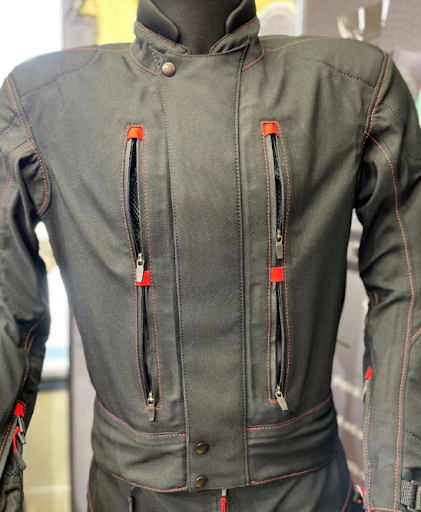 Waterproof Taped Seams with Triple Stitching
All stitching involves triple row construction using thick threads like our leather suits. Seam strength results are phenomenal and to ensure they remain watertight BKS has invested in a state-of-the-art seam sealing machine to tape every single one of them, including around pockets and vents.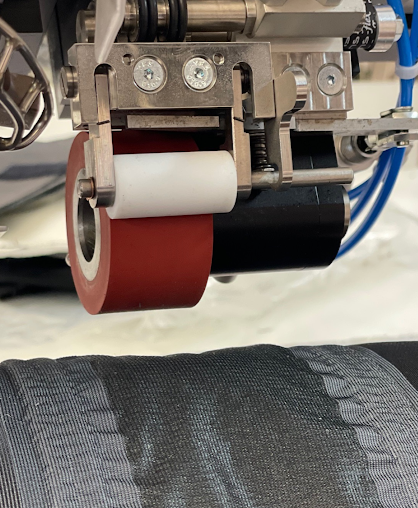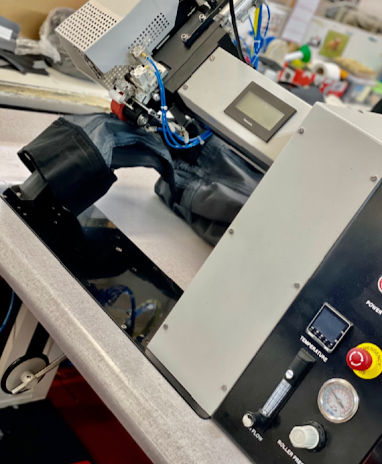 Body Mapped Tailoring
The fit and cut of many other textile riding suits can be a little loose which invites the protection to move out of position as well as the garment dragging folds of spare material during a crash. This can cause holes and tearing. The BKS 100SX pays extra special attention to fit and has adopted a similar cut to its leather riding suits learnt from over 35 years of bespoke work. It's a little looser in some places but pre-shaped elbows and knees are still applicable to avoid excessive bunching. The shell fabric is 4-way stretch so moulds to your sitting position and effortlessly makes for easy wearing when walking around off the bike too. You can see the expert curving throughout the arm and leg as well as the back profile. The suit sits nicely at the front collar and the groin area has no excess material.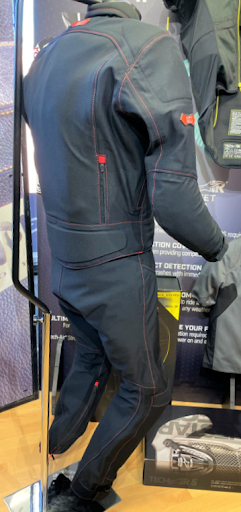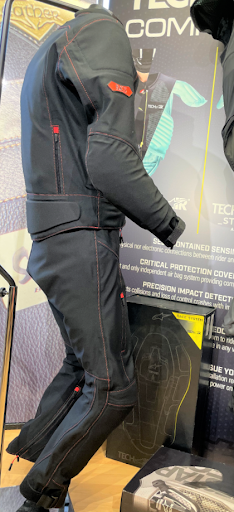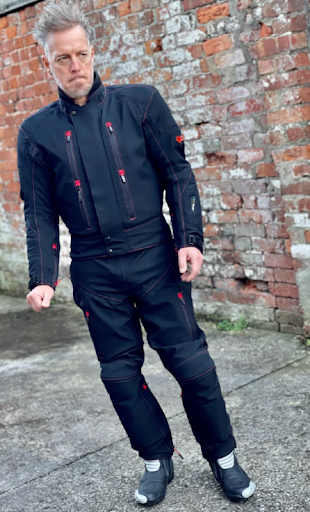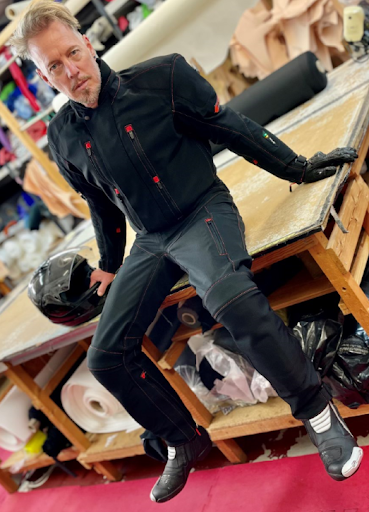 Fully Zipped together waistline and fully Airvest Compatible
Like all BKS leather suits, the 100SX fully zips around the waist with a heavy duty nylon zip. This means if you happen to have both types of suit you will be able to wear your BKS leather trousers connected to your BKS textile jacket. This has been a preferred combination in some of our police force supply already. Either way, this connection is necessary for the safety of the suit and provides additional comfort and support as well as ensuring the best fit.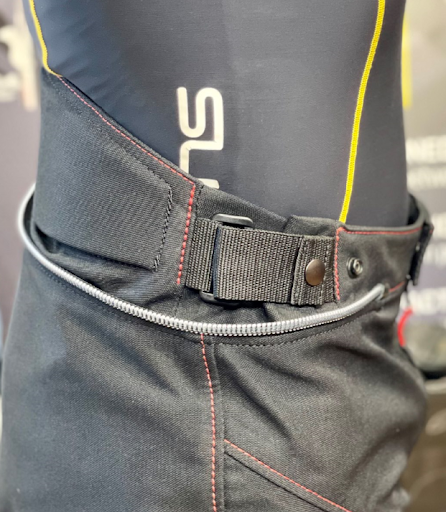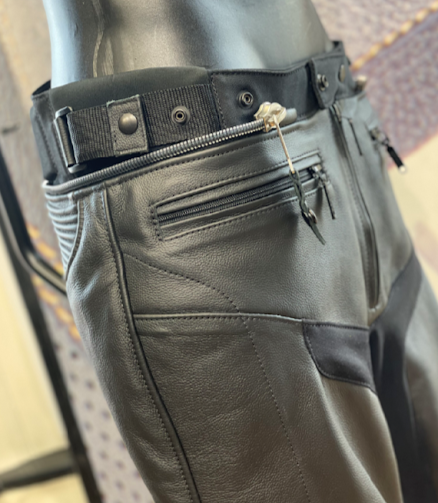 Made to measure versions of the suit will also allow for the jacket to feature the Techair airbag vest, which BKS builds into the construction of the garment and behind the lining. Two Velcro slots allow for the electronic connection tabs to project through and wear the vest in this way, keeping everything neat and tidy and 100% contained.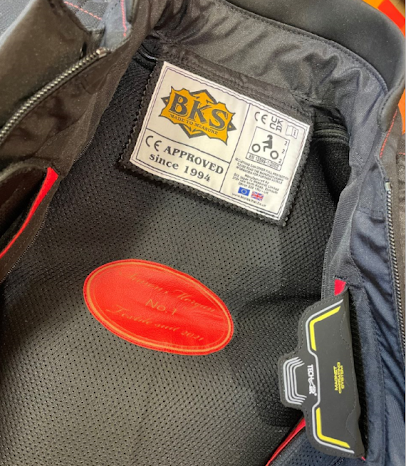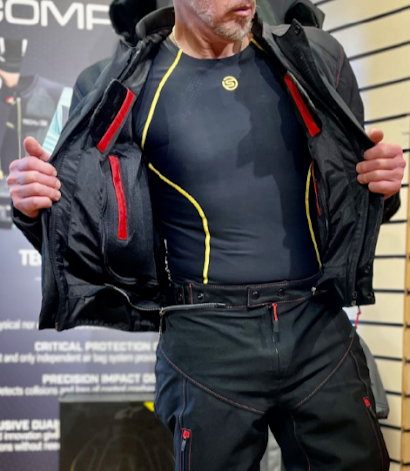 The Ultimate Motorcycle Suit – Just Got Better
Whether you choose our new BKS 100SX textile suit or remain with our leather ones and should you choose the Race System or the V5 Techair version of airbag vest, you will certainly be wearing the pinnacle of safety when it comes to your motorcycle clothing.