Showroom
We have a showroom where we can show you pre-made suits on the hanger which gives you a really great impression of what your finished suit would look like.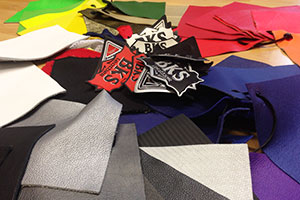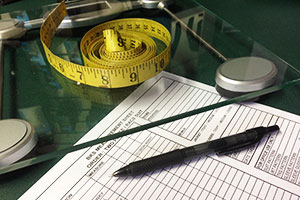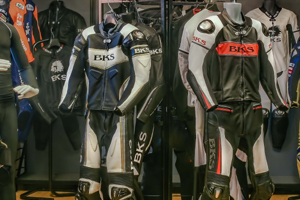 Pattern Making
BKS invested in computer assisted pattern making in 1997. Using Lectra, a French based company and one of just a few that is used for such applications, all patterns are made digitally and with millimetre precision accuracy. Up to 12 hours work goes into this stage, especially the more complicated one piece race suit, full of stretch panels, comfort inserts, secondary facing fabrics and foam panels that line various areas of the suit. Each and every suit, starting from scratch, each to an individual measurement set and design layout has to be produced one at a time….by Charlotte. Joining the BKS team in 1993 on the very first day we moved to our current premises, Charlotte began as a suitmaker and sewing machinist. Serving a 10 year apprenticeship learning suits from the front end, an understanding of how suits assemble proved to be very useful experience when it came to learning the patternmaking. 20 years at BKS, working with all of the developments in most of the suit designs in both assembly and pattern drafting is a tremendous advantage for continuity of our quality of product.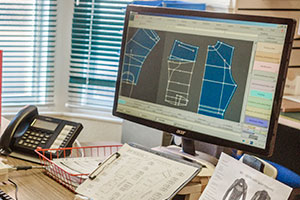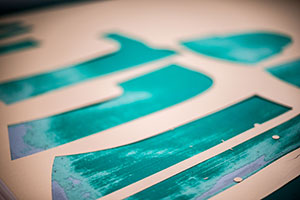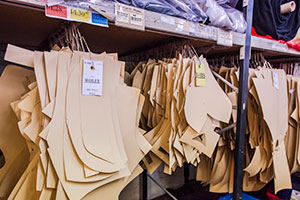 Cutting Room
A team of 4 prepare all of the leather panels, cut the lining and foams and interface fabrics and gather the zips and components needed for each of the suits cut throughout each week. Using traditional hand cutting clicker knives along with specific fabric shears and all manner of marking devices, everything is prepared, cut and bundled into a workbox that belongs to one suit at a time. It's a comprehensive jigsaw puzzle of pieces numbering well over 100 items and meticulous checking accompanies this process.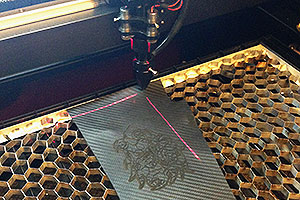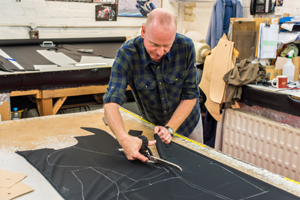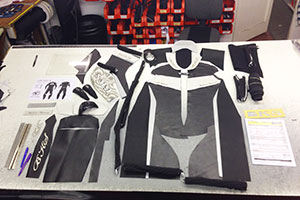 Pre-assembly
This involves the leather pieces mainly, which need either splitting or skiving. Splitting is a process that sees leather panels fed through a machine capable of shaving the leather panel completely to a digitally pre-set thickness. Certain leather panels like waistbands, collars and stretch panels benefit from being reduced from their full thickness down to a thinner gauge that reduces unnecessary bulk in the garment. Leather lettering is also created from leather thinned from original thickness for this application, usually around 0.5mm – 0.6mm. Once this process is complete, the following stage is done on the skiving machine. Similar in technique, this machine just shaves the leather along the edges of panels or across corners. This process is designed to enable seam junctions to be free of bulk and produce a much flatter and neater finish throughout the garment. The same department includes the preparation of leather stretch panels, which is responsible for producing the accordion styled sections within the suit. Using an engineered metal frame which is loaded with highly tensioned elastic, these leather panels are created by sewing parallel lines across the entire width before cutting free, which then sees this process result in a uniformly pre-tensioned panel ready for assembly into various sections of the suit such as shoulders, elbows, knees and waist.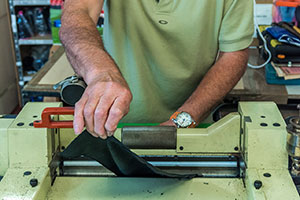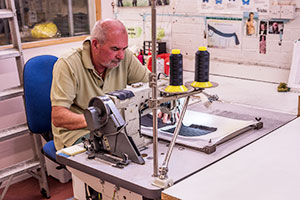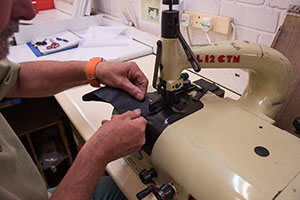 Assembly
A team of 6 suit-makers are responsible for putting all of the BKS suits together each week where skilled seamstresses will usually make each suit themselves from start to finish. Some suits can take upwards of 40 hours to complete these stages alone, usually the complicated race suits with lots of graphics and lettering, which are all hand applied and individually stitched in place.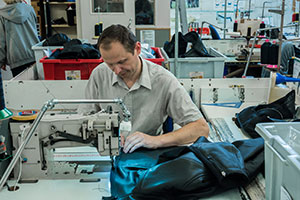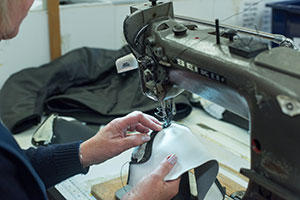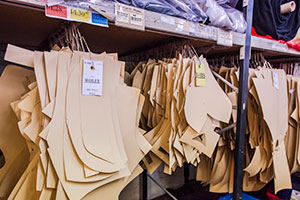 Finishing
The final stages involve turning the garments out and checking for thread ends that get tied, knotted and hot-melted. Stitching inks that have been used to help the stitchers line up certain panels are cleaned away and garments in general are cleaned and polished ready for customer presentation. This final process also involves loading the impact protectors into the suit as well as zipping the correct lining in place. Press studs and labels and general packaging all forms part of the finishing room activity but once complete the suit is then ready for hand over.