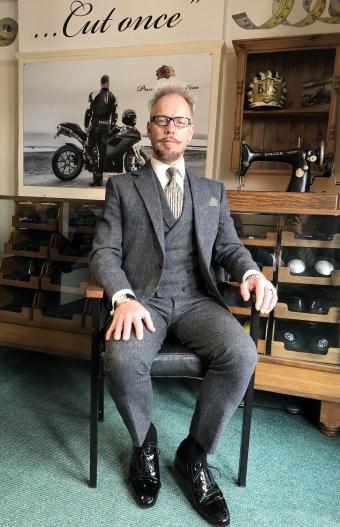 Brian Keith Sansom – (Managing Director and Head Tailor)
Brian has lived in Exmouth, the home of BKS, all of his life and learnt his craft through continual experimentation. From a teenager making his own clothes resembling his favourite musical influences during the punk era of the late 1970's, to starting his own business at the age of twenty two with the aid of a Young Enterprise Allowance Scheme. Theatrical costumes led to leather fashion garments which evolved into bike leathers. BKS has literally been grown from a hobby. Perfection and extremely accurate representation have been high on Brian's list throughout his self-taught career. He still insists on measuring all customers himself and continues to take responsibility for all new suit designs and features. Very hands on throughout the day to day running of the business, Brian still maintains a huge desire to further refine and improve his BKS suits, constantly looking for finer leather, technically better fabrics and more luxurious components.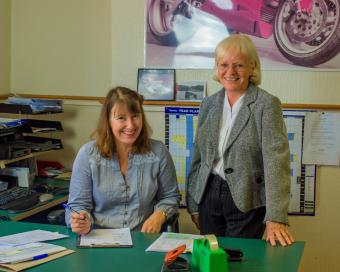 Alison Keen (Office) – Front of house
Alison grew up in Sheffield and attended college there before beginning a working life that saw the first two years overseas. She was an air stewardess for 11 years followed by office administrator for another two, all with Monarch Airlines at Gatwick. Eventually moving to the West Country in 1997 she has worked in the office at BKS since 2003. Initially in an assistant role, Alison now enjoys full control of the administration side of BKS, occupying front of house, stock control and customer relations where you will find her desk organised chaos. Her son Frazer, even did a short stint at BKS helping out around the office to gain work experience as a teenager. Away from work, Alison enjoys socialising and going out!
Charlotte – (Pattern making)
Charlotte joined us here at BKS on the very first day we moved into our current premises in August 1993. Charlotte continued as machinist and suit maker for around 10 years before taking those skills and experience over to the patternmaking department where she has remained until this day. Charlotte is in charge of our Lectra CAD programme which produces all of the patterns for new suits as well as our alteration service.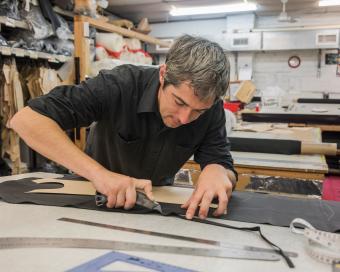 Allen Cliffe - (Cutting Room)
Allen learnt many of his skills from 7 years' experience in trades connected with Children's Inflatables and Bouncy Castles. His knowledge was expanded working in the 'Glamping' industry producing high end luxury camping equipment and tents with some of the products featuring in a UK television series. He joined us in the cutting room in 2008 and now finds himself as head cutter, mainly working on leather but directing on the various cloth and fabric work too.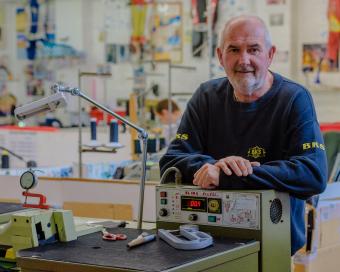 Larry Anglin - (Pre-Assembly and Finishing Room)
Larry is the longest serving of any of the current BKS team, joining us in September 1992. He operates in the middle of the production processes, taking charge of the leather splitting and skiving machinery which thins leather across whole panels or along edges. He also makes the majority of the leather stretch panels. When his work is done here, he reappears at the other end of the line in the BKS finishing room. Larry has to load the impact protectors into place, zip the liners in and generally tidy the garments up, soldering the knotted thread ends and cleaning off the stitching inks. Larry is usually the first to see each completely finished suit in all its glory and acts as your quality controller.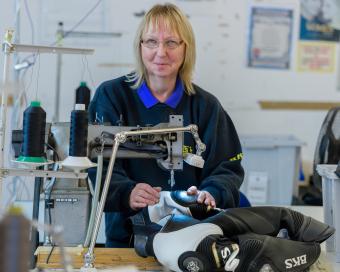 Sue Barrett – (Head Stitcher)
Sue has always had a passion for sewing. In 1975 she started work with a baby wear company in her home town of Honiton before adding a wealth of experience with Antler of Exeter making luggage until 1992. A further 8 years of knowledge comes from making equestrian products, before eventually joining BKS in January 2001. Sue has been involved in every type of garment we make from the police suits, to sports two piece and racing one piece outfits. Sue now specialises in our most complex race suits and assists Brian with the day to day running of the workshop floor. She heads up the team of suitmakers and other stitchers, namely Joy Mann, Marius Ureche, and Roy Miller and provides assitance where needed with their training and ongoing daily production.